************
Kubica Clinches WRC2 Title
Matt Beer
October 27, 2013
www.racer.com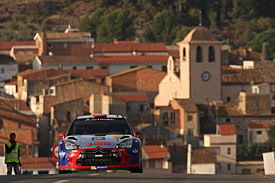 Robert Kubica claimed the World Rally Championship's second division title with a fifth class win from seven events on the Rally of Spain.
WRC2 became the ex-Formula 1 driver's primary focus of his first top-level rallying campaign with Citroen this year and he was able to dominate on several occasions. He pulled away from leading rivals Elfyn Evans and Sepp Wiegand in Spain even before they hit trouble, eventually winning the class by four minutes.
Kubica said the championship was always something he had suspected might be possible.
"The target was different but somehow I knew that if I was able to learn quickly on gravel, I could do a good result," said Kubica. "I was pretty sure that on pavement I was quite competitive, but it's different driving in the World Rally Championship."
He admitted that while the title was satisfying, he was still ultimately focused on resuming the top-level single-seater career interrupted by his massive rallying crash in early 2011.
"I'm happy but there is a long way for me to go in my recovery," Kubica said. "I've used this year as a recovery year and to gain experience.
"It's no secret that one day I would like to go back to single-seaters, but I think rallying has helped me a lot this year – not only for my recovery, but to keep my mind busy."
Kubica will now step up to Citroen's DS3 World Rally Car to make his top-class debut in the season finale in Britain in November.
The Pole is on Citroen's shortlist for a 2014 WRC seat, and has also been linked with M-Sport's Ford programme.
This article originally appeared in Autosport.com